Posted by Michael Addison on 5 March 2018
The annual holiday season is fast approaching. It is that time of the year when everyone just wants to relax and enjoy some quality time with family and friends. What better place to do this than in an exotic holiday destination like Cairns. Cairns is a city in Queensland Australia that has a plethora of offerings for persons of all ages who are looking for a fun, relaxing and memorable holiday experience. The numerous attractions in Cairns will definitely leave you wanting to come back for more.
Holiday goers visiting Cairns are strongly advised to plan accordingly beforehand. This means making elaborate plans for accommodation, sites and attractions to visit as well as activities to take part in. This is all done with the aim of ensuring that no inconveniences of mishaps occur during the trip. Another key issue that needs to be considered when visiting Cairns is the mode of transport. You need to figure out the best way to move around the city and get to all the nice sites and attractions that this beautiful city has to offer. Fortunately, you do not have to worry about movement within the city as you can always use our car rentals Cairns service.
Here is a look at some of the things you can do while on your trip to Cairns.
1. Cairns Esplanade Boardwalk
Fun lovers and sun seekers flock the Cairns Esplanade Boardwalk to get an amazing view of the city's reclaimed shoreline and the adjacent saltwater pool. If you love taking long and relaxing walks near the water, this boardwalk will give you an experience like no other. The Cairns Esplanade Boardwalk is perfectly illuminated with cool lights and has some really amazing bird watching vantage points. The 3 km boardwalk also has serene picnic areas, fitness equipment, barbecue stations and playgrounds for kids.
2. Cairns Esplanade Swimming Lagoon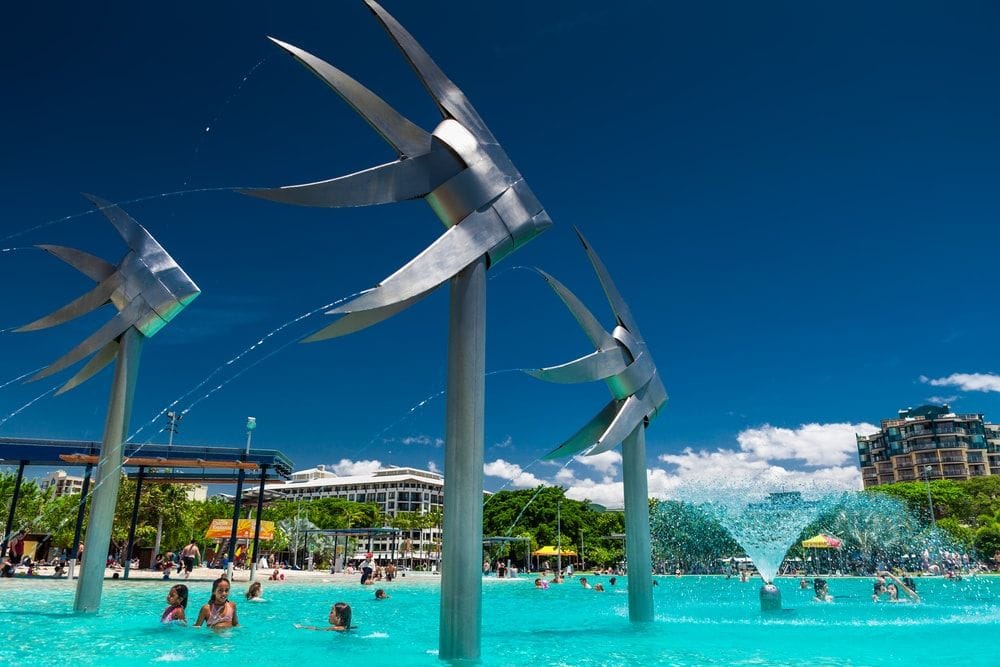 If you are on this trip with friends, the Cairns Esplanade Swimming Lagoon will definitely be of your liking and all within a 10-minute car drive from the city centre. The swimming lagoon is the place to go to if you a nice swim as you catch up with friends. Here, you can meet up with other fun-loving tourists and enjoy the spectacular view of the mountains on the horizon and amazing Trinity inlet. There are numerous restaurants and food joints in the vicinity if you feel hungry. You can alternatively choose to lay out a picnic in the nearby park which has some really comfy seats and tables.
3. Cairns Botanical Gardens
The Cairns Botanical Gardens is where you get to see Mother Nature at its best. This amazing garden has some of the rarest and most exotic collections of tropical plants and horticulture in Australia. Here you get to explore the stunning beauty of tropical plants and also enjoy some picturesque and stunning surrounding. You should definitely not forget your camera when visiting the Cairns Botanical gardens. The Gardens is divided into: Zhanjiang Friendship Gardens, Freshwater and Saltwater Lakes, Watkins Munro Martin Conservatory, Gondwana Heritage Garden and The Flecker Gardens.
4. Kuranda Scenic Railway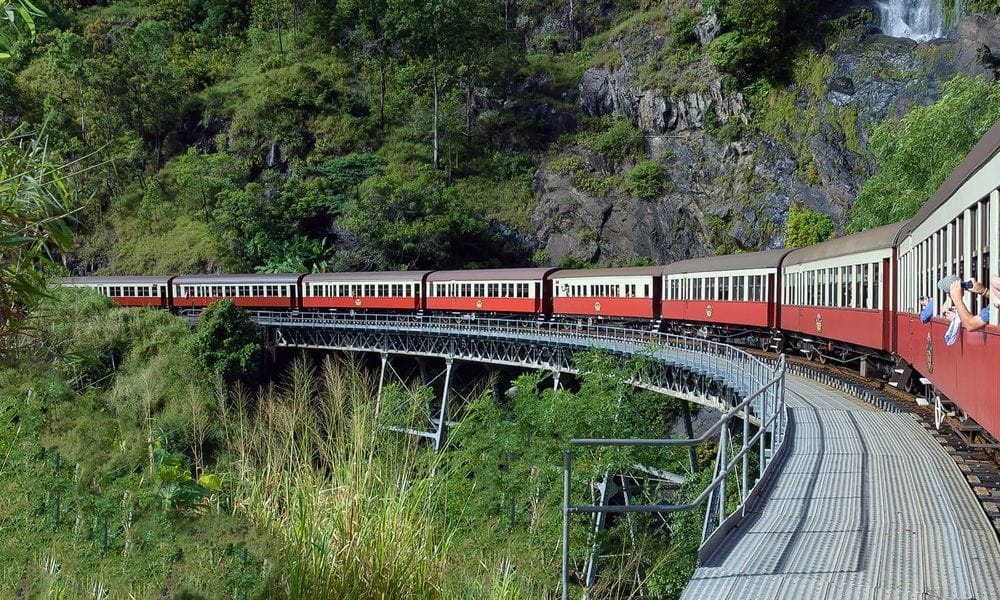 The famous railway from Cairns to the Kuranda village in the rainforest is another amazing attraction that this destination has to offer. The Kuranda Scenic Railway is not called 'scenic' for nothing. The train journey itself promises some magnificent views of waterfalls, steep ravines and dense rainforest. The journey from Cairns to Kuranda takes about 1 hour 45 minutes by car, so take a look at our range of car rentals in Cairns that will be suitable for this trip. Upon reaching the village, you get to see a wide range of other interesting attractions and you also get to have a memorable shopping experience as well.
5. Skyrail Rainforest Cableway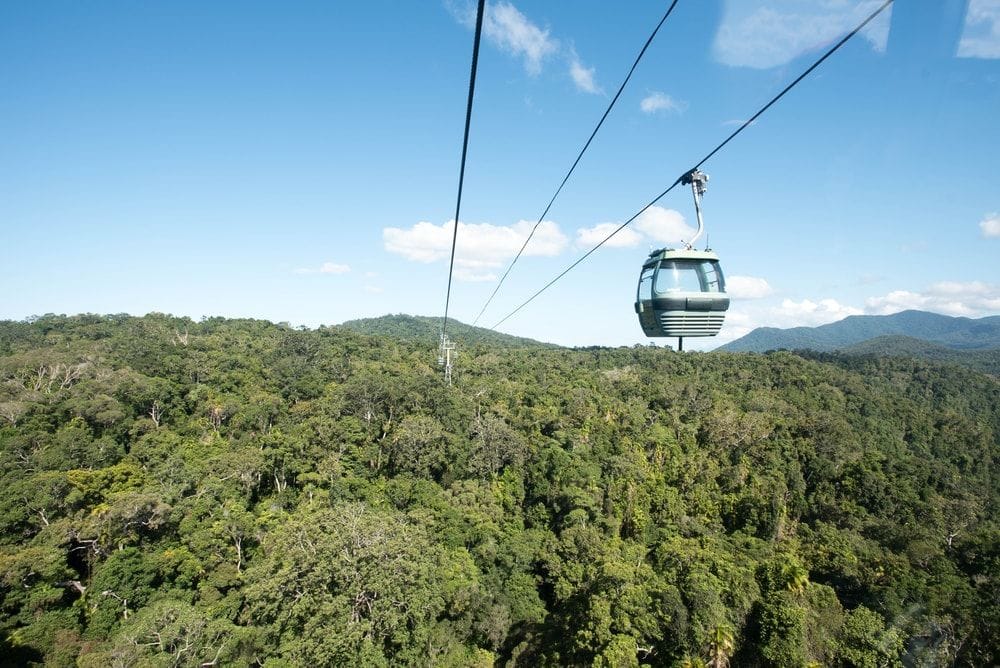 Skyrail Rainforest Cableway is another point of interest in Cairns. Skyrail is a must do rainforest encounter. It takes you on a spectacular journey over and through Australia's World Heritage listed Tropical Rainforests in the Barron Gorge National Park. It is a place where both adults and kids can have fun.
6. Michaelmas Cay
Michaelmas Cay is the largest coral cay in the Cairns region. There are other coral cays in the region but the Michaelmas Cay is huge when compared to the others. The cay is located 40 km from Cairns, and is a great place to visit if you want to see various species of seabirds. Also, unlike other cays in Cairns, this cay is raised up high meaning it stays above the water no matter how high the tide is. Avid snorkelers and divers can make their way to the Michaelmas Cay to get amazing views of the reef from beneath the calm waters.
7. Rustys Markets
The Rustys Markets are strategically located in the Cairns central business district. These markets are popular with tourists as they offer a wide variety of fresh produce, fashion items, flowers and other valuable commodities. Holiday goers can visit the Rustys Markets to get supplies for their trip. With over 180 stalls, these markets have everything from seafood, dairy products, fresh bread, flowers, vegetables, exotic fruits, international food and drinks, bric-a-brac and a wide variety of speciality products such as chocolate, coffee, jewellery, clothing and so much more.
Cairns undeniably is one of the best places you can be this festive season. With so many attractions and sites to visit, navigation can be an issue if you do not have a reliable mode of transport. Public transport is not a really fun and comfortable way of maneuvering within this city. Neither is moving from place to place using cabs or taxis. So what's the best way to travel when visiting Cairns?
Renting a car is very easy - either ring us at 1300 Meteor (1300 638 367) or simply book online at www.1300meteor.com and save! We offer a wide range of reliable new & low age cars ranging from self-drive rental cars, SUV wagons, minivans and 4x4's for local, interstate and one-way hire!Yes, a free airport pickup service is available during office hours!