Why 1300 Meteor is your First Choice For Ute & Van Hire In Cairns!
Ute & Van Hire Cairns: only best quality reliable new & low age vehicles. Autos & Tradesman canopies available! Free airport pickup, one way rentals welcome! NQ's largest hire company for people movers, light commercials, 4WD's, trucks & trailers, with over 35 years of experience!
Client Reviews
How do you make the right choice of supplier in Cairns? Who can you trust to look after you with a great deal for a quality ute or van and the service and professionalism you deserve and are paying for? We believe our customers are our best referee - check out our reviews!
> Read our Google Reveiws for Cairns
Free Airport Pickup
We provide a free Cairns Airport pickup service to any renter of our motor vehicles! This includes cars, people movers, light commercials, 4WD's and trucks. Our local office is located about 20 minutes from the airport, in close proximity to the Cairns Convention Centre, CBD, Trinity Inlet, port & pier area, and the Bruce Highway heading south and also connecting to the nearby Gillies Highway accessing the scenic Atherton Tablelands. Click on RENTAL INFO for full details.

One-Way Rental
Picking up in Cairns and finishing at another destination? No problem - 1300 Meteor offers one way rentals to most locations in mainland Australia!
Unsealed road usage permitted to 4x2 utilities
Usage of our 4x2 Hi-Rider utilities is permitted to unsealed gazetted roads, and our standard Loss and Damage Cover applies to such use.
Accessories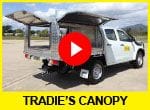 Our accessories range includes:
Amber beacons
Fire extinguishers
UHF 2 way radios
Tie down ratchet straps
Cargo nets
Canopies 3 door aluminium with roof racks, to suit our Dual Cabs ideal for tradies & campers alike! 3 door aluminium with roof racks
GPS tracking option: Now available to our commercial clients keep track of vehicle location, usage and servicing!
Best Rates fo Quality Vehicles
Check out our quality fleet, our highly competitive rates, and the value!
Click on a ute or van image below for full details and covering video clip!